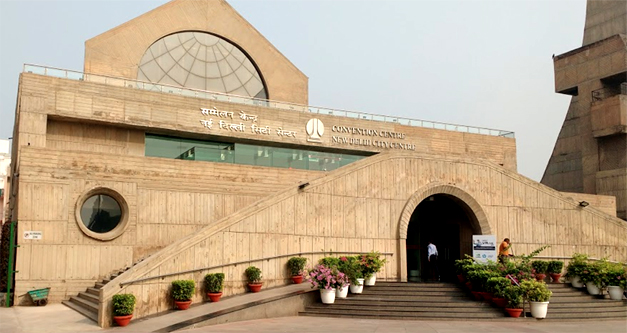 We wish to inform you that we are shifting the venue of 20th Joint Annual Conference of Indian Epilepsy Society and Indian Epilepsy Association from usual closed atmosphere of hotel to open ambience in Lutyen's Delhi "New Delhi Municipal Council Convention Centre, Sansad Marg, New Delhi.
The convention centre represents a "rare blend of modernity and heritage". From the outside, the building façade and curves resonate the architecture of Jantar Mantar. Inside, the building houses a modern auditorium with a seating capacity of approximately 300 persons, six conferencing halls of various capacities, a business centre and a cafeteria. This building complex represents an edifice undergoing continuous growth and marks an important milestone in the history of the civic body. The state-of-the art Convention Centre is centrally located in Connaught Place nearby parliament Street and opposite Jantar Mantar. The nearest metro stations are Patel Chowk and Janpath.
This centre has become an iconic building complex in the heart of city where citizens of Delhi would be able to showcase their cultural or social activities.
New Delhi Municipal Council (NDMC) Convention Centre is conveniently close to the City Centre and the airport. It is
12 km from Indira Gandhi International Airport
2.5 km from New Delhi Railway Station
2 to 3 km from Rashtrapati Bhavan, the Presidential Palace, India Gate, the National Museum and the National Art Gallery
1.5 km from Central Park, best for Nature Walk
2 km from Janpath, Connaught Place, the commercial shopping district
New Delhi Municipal Council Convention Centre,
Lutyen's Delhi, Parliament Street, New Delhi-110001 India